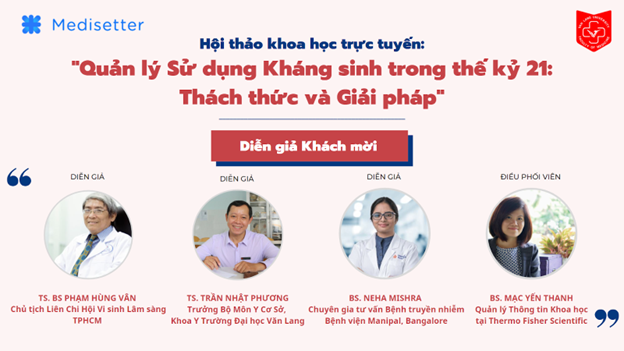 CASE STUDY: SPONSORED WEBINAR ON ANTIBIOTIC STEWARDSHIP
Overview: Medisetter collaborated with one of the world leaders in medical instruments, diagnostics and lab equipment to deliver clinical education related to a diagnostic tool for early detection of bacterial sepsis. In June 2021, Medisetter organized an International Webinar on Antibiotics Stewardship Program, in partnership with a medical university, with a view to raise awareness about the growing problem of antimicrobial resistance and how this can be mitigated through responsible use of antibiotics. The event featuring high profile local and international speakers including the Chairman of Ho Chi Minh City Association of Clinical Microbiology, President of Vietnam Association of Medical Molecular Biology, the head of the Microbiology Department of a local medical university and an international infectious disease practitioner.
Our Scope of Work: Medisetter delivered an end-to-end solution including webinar planning and organization, HCO / scientific endorsement partner recruitment and speaker recruitment. The content direction was provided by the sponsor.
Outcome: The webinar was a resounding success and broke all of our previous records in terms of reception and engagement with a total live audience of 2,900 / peak live audience of nearly 700 HCPs, pharmacists, medical researchers and public health professionals and 1000+ playbacks of the recorded video. We also received over 200 requests for copies of the presentation materials.