Choosing a paediatrician is an important decision that you need to make before the birth of your child. As a partner in ensuring that the newest addition to your family will be in the best possible health, your paediatrician will oversee your little one's physical exams and screenings, facilitate immunizations, monitor their developmental milestones, and address their illnesses and conditions.
Your relationship with your chosen paediatrician will last beyond your little one's first months, toddler years, and childhood. In many places, including Singapore, paediatricians treat patients under 18 years of age. Selecting a paediatrician with whom you can have a long-term professional relationship, in turn, will provide your child with continuity of care. At the same time, you'll always have a person in mind that you can turn to in case your child requires medical attention.
So, what should you look for when choosing a paediatrician? Here are some important qualities to consider.
Verified Credentials and Professional Requirements
First and foremost, it's important to check that your possible options have the right credentials. One has to go through a lot of hoops to become a certified paediatrician in Singapore. These include earning a college degree, going through medical school, gaining the necessary experiences and licences, and completing residencies and fellowships. If you're not sure where to look for someone with these qualifications or if you have no idea where to start your search, you can check out a children hospital near you and see their list of paediatricians. These medical groups strictly screen the professionals in their roster, so you can be sure that their paediatricians have the right credentials under their names.
Easy Accessibility and Responsiveness
Another important consideration that you should have when looking for an ideal paediatrician is their accessibility and ability to quickly respond to patients. Travelling with an infant or child is already difficult, but it can be especially challenging if your young one is sick. It's a good idea, then, to get a paediatrician whom you can easily reach in times of emergency. If there is a hospital, clinic, or private practice near your home, maybe you can check out the paediatricians there first so that you don't have to travel far for your child's vaccinations and check-ups in the future. A paediatrician who can also quickly respond to your messages–if you're asking for advice on whether to take your child to a hospital or not, for example–can also save you from a lot of stress in the future.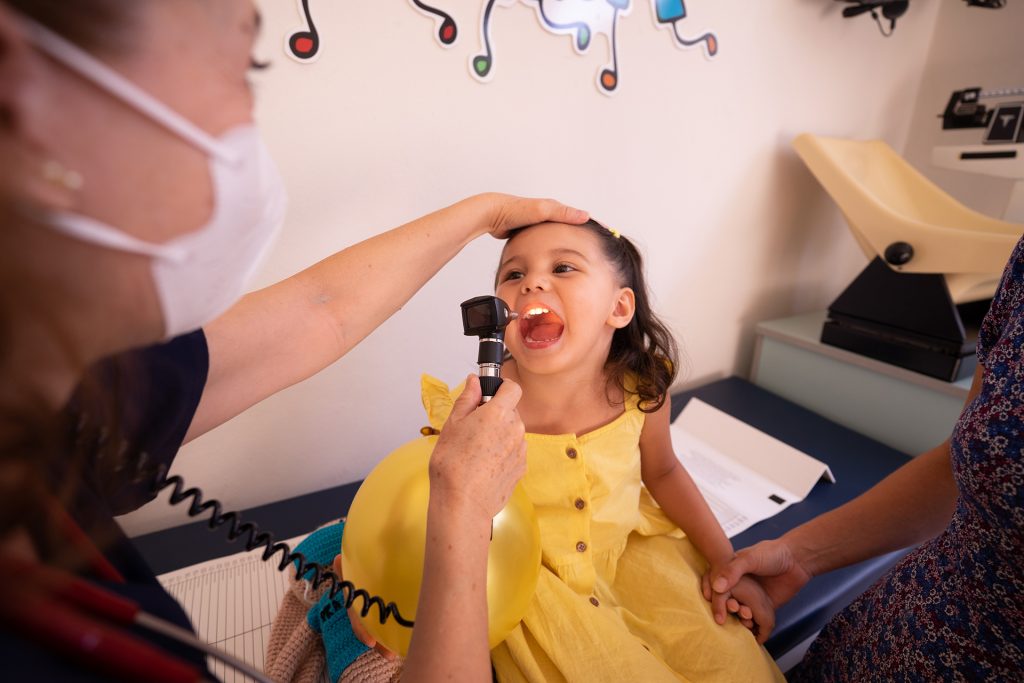 Favourable Reviews and Recommendations 
These days, it's not too difficult to find reviews of the physicians in your area. You can consult your family members and friends about their experiences and ask if they can recommend paediatricians to you, or you can check online reviews of specialists near you if your search within your own social circle comes up empty. Check both good and bad reviews, especially recent ones, as well as the ratio of good reviews to bad ones. This can help you get a tempered view of what you can expect from each professional and help you make an informed choice. Of course, since you're doing your search on your own, don't forget to assess the credentials of each paediatrician that you're reading the reviews of.
Excellent Communication and Interpersonal Skills
After narrowing down the qualified and well-reviewed or recommended paediatricians in your area, the next step would be to pay them a visit. You can use this opportunity to get a feel of how they conduct their check-ups, observe their communication skills, and even ask questions that can help you decide whether or not you'll choose them as your child's doctor. While it's ideal to choose a paediatrician before your baby is born, bringing your baby to visit their potential doctor can also be to your advantage. This will help you see how the paediatrician will interact with your baby, relay information and instruction to you, and provide you with options in case their first recommendation does not exactly suit you.
Their Practice Is Amenable to Your Lifestyle and Schedule
Last but not least, your ideal paediatrician should be able to match your lifestyle. If your work tends to have odd hours, for example, can your child's paediatrician meet you at a time that is convenient to you? Can the paediatrician accommodate same-day or last-minute appointments? Do you need a clinic or practice that operates during the weekends and holidays? If so, make it a point to ask about scheduling options.
In addition to these items, perhaps you have other qualifications and qualities that you want to see in your ideal paediatrician. Maybe you prefer to work with someone who has a sub-specialisation in paediatric cardiology, pulmonology, or developmental behaviour. Or maybe you're more comfortable working with someone who is open to conducting online consultations or home visits. List these requirements down and group them according to must-haves and nice-to-haves. Having a checklist on hand will help you ask the right questions and make your search quicker, easier, and less stressful. This way, you're more likely to find a paediatrician who checks all the boxes before your little one arrives.