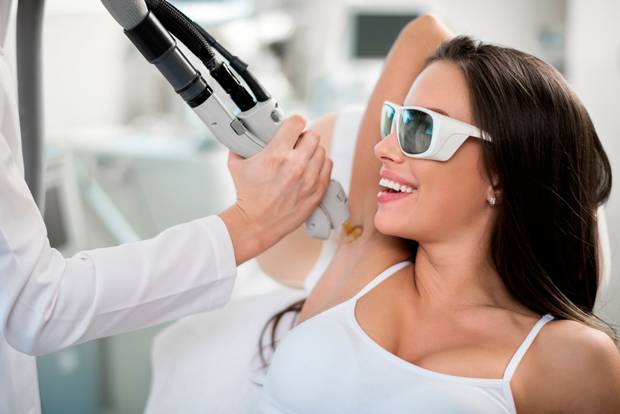 Unwanted hair growth on certain parts of the body is nightmare for many of us and removing this hair from time-to-time can be really bothersome on certain occasions. You might wish that there was a solution that could permanently liberate you from your routine hair removal regimen. While traditional methods of hair removal include waxing, shaving and hair removal creams, neither of these methods constitutes a permanent solution. That's what makes laser hair removal so appealing.
Laser hair removal is not, however, just yet another method of hair removal as it involves a high degree of professional skills to achieve utmost precision with minimum complications.
This method involves the use of highly concentrated light beams targeted towards the area from which the hair must be removed. These light beams are absorbed by the hair follicles, damaging them in the process but preventing any damage to the skin. Laser can effectively remove hair from every part of the body be it face, legs, arms, underarms, bikini line. After you have undergone a certain number of sessions, there will be a considerable decrease in hair growth if not a permanently stoppage. Sounds like a dream come true, doesn't it? Let's find out a bit more about this revolutionary hair removal technique.
How is laser hair removal carried out?
First of all, your specialist will examine your skin and hair type to check if the procedure is suitable for you. He must be sure that there are no conditions that will lead to adverse reactions for side-effects from the laser exposure.  After the practitioner has made sure that you can opt for laser hair removal, you will be asked to follow a certain set of rules to help you prepare for the treatment including the following:
Avoid exposure to the sun for up to six weeks before you start with your hair removal procedure
Avoid using any tanning products or get rid of your tan if you have any
Avoid any other hair removal methods like waxing or electrolysis at least 20 days before going in for the hair removal process
A day before the treatment, the hair that will undergo the procedure will be trimmed only up to a certain length above your skin surface to prevent any damage to the skin
Based on your objectives, hair type, skin colour and texture, the settings of the equipment are decided accordingly. Both you and the practitioner that will carry out the laser procedure will have to wear protective goggles to shield the eyes against the laser beams.
Before beginning the procedure, a cooling gel is applied on the surface of the skin that will help enhance the penetration of the laser beams into the skin and target the hair follicles better. This also helps in reducing any discomfort as well as prevents side effects. A topical anesthetic may also be applied. The specialist will then treat the area with laser beams and slowly and cautiously carry on with the procedure to avoid any injury or side effect to the skin.
The hair from the treated area is likely to fall off within a month and hair stops growing altogether after having taken a certain number of sessions. A mild irritation might be felt while carrying it out. After the procedure is over, you will likely be advised to put cold compress or water or anti-inflammatory cream to reduce discomfort.
What are the side effects of laser hair removal?
Like every other treatment that you may undergo, the laser hair removal procedure also poses certain risks such as:
The treated area may appear as if it has been sunburned but it will recover in a day or two
Your treated area may swell up for a while and you might experience a tingling sensation as well as redness and your skin might even feel sensitive to touch. It usually subsides in a matter of few hours
There might be a change in the pigmentation of the skin. It may either appear lighter or darker post treatment
Blisters and scars are rare and are likely to occur if there wasn't proper care taken on the part of the specialist performing the procedure. It is therefore important that such procedures are carried out with utmost care to prevent or at least minimize the post treatment complications
Crusting of the treated area is another side effect that is relatively common. This issue can be overcome by the application of moisturizer after treatment
How should you look after your skin after laser hair removal?
The aftercare for any treatment plays a major role to help avoid or minimize any post treatment complications and must be followed religiously. The aftercare routine for laser hair removal is as follows:
Apply cold compress on the treated area to reduce discomfort or redness. A bath in cool water can also help
Avoid exposure in the sun for at least two weeks after the treatment
Apply a sunblock lotion with high SPF before going out into the sun
If blisters occur, an antibiotic or antiseptic ointment can be helpful
Avoid any other treatment that will involve the use of chemicals or laser onto your skin for at least two weeks post treatment. Also avoid waxing, shaving or plucking on the treated area
Avoid exposure to heat for up to 48 hours. Hot baths, saunas, hot tubs must be strictly avoided
Make-up and deodorant must be strictly avoided for up to 24 hours after having undergone the treatment

How many sessions of laser hair removal will you need?
You are going to require 7 to 10 sessions of laser hair removal before your hair can stop growing, altogether. The intervals at which you must be taking these sessions will be suggested by your specialist upon having understood your requirements as well as your hair and skin type and also based on how your skin reacts to the first treatment session. For those with more sensitive skin, the gap between successive sessions might be stretched out to allow the skin some time to heal.
How much will laser hair removal cost you?
When you are evaluating the affordability of laser hair removal, you need to consider the total "lifecycle" treatment costs rather than the cost of each session. The cost of each laser hair removal session can be around U$200-220 per session in the United States and around US$100 – 200 in Asian medical beauty treatment hubs like South Korea and Thailand. This implies that total treatment costs can range anywhere from US$700 – 2,200. The exact cost will vary depending on the area of the body that will undergo the treatment as well as on where the clinic or practitioner is based and their track record and credentials.