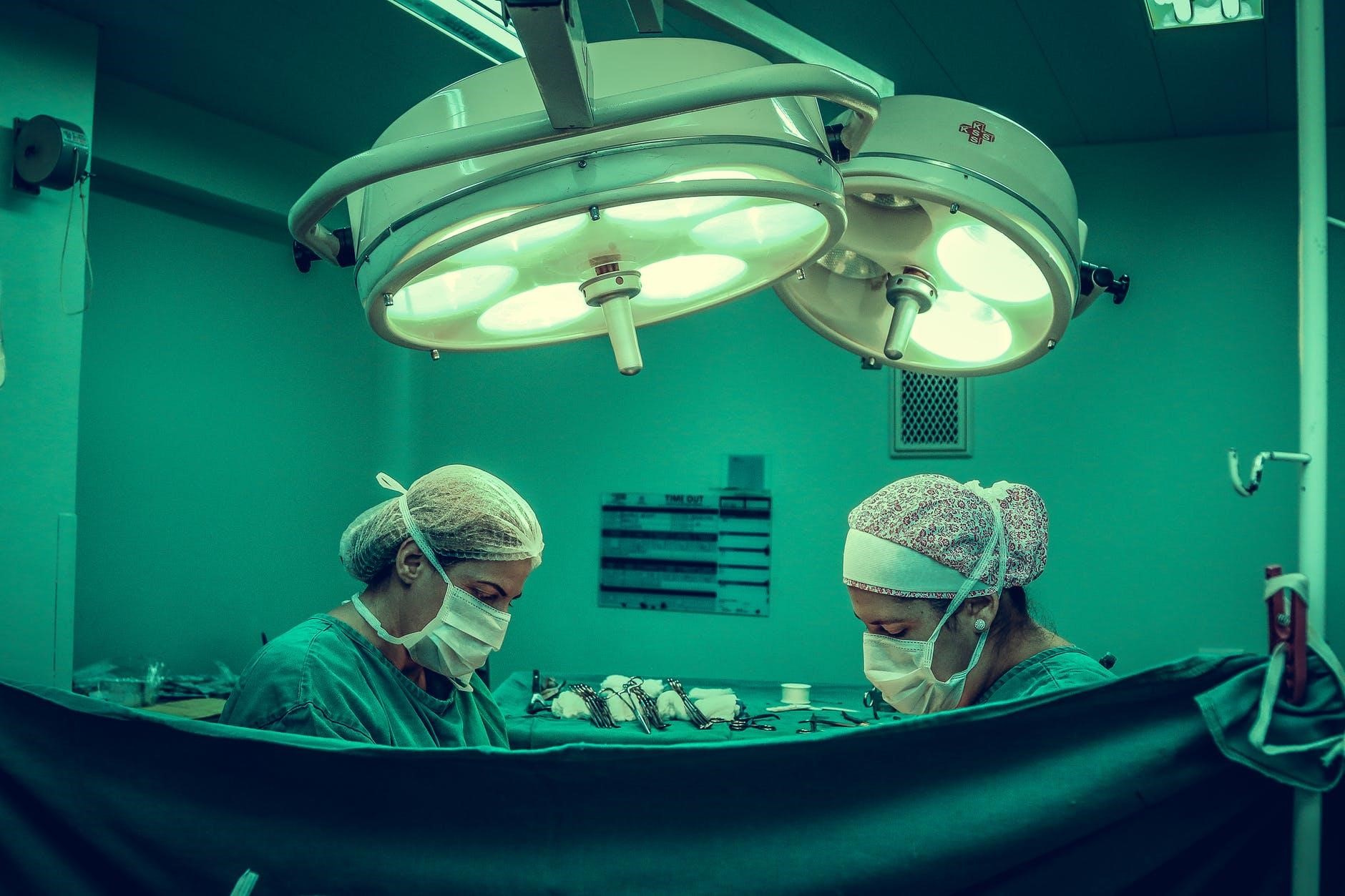 The high quality and low cost of heart bypass surgery in India has put the country firmly on the map as a serious medical tourism destination. Americans can save more than 90% on this surgery by undergoing it in India.
Moreover, we believe that US insurance companies will begin to take notice of this trend in the coming years, and may start creating insurance products that offer medical tourism options. Americans are increasingly getting disgruntled with their health insurance plans, and many insured people can still end up with massive amounts of debt due to all manner of exceptions and high deductibles and copay terms on their insurance policies.
The low cost and high quality care provided by JCI hospitals in India can be a breath of fresh air for US patients, and it can also help insurance companies to cut claims expenses and, consequently, lower premiums by offering their customers global options. That being said, the long distances and travel times between the United States and India mean that traveling to India for a medical procedure is only a viable option for those patients not in critical or emergency care situation.
India is one of the world's most attractive destinations for heart bypass surgery
India is one of the world's cheapest destinations for heart bypass surgery according to Statista, making it a popular treatment destination for patients from Asia, as well as Europe and the United States. The average cost of a heart bypass surgery in India is around $7,900, while hospitals in Thailand and Malaysia charge $12,000-15,000 for this surgery.
Apollo Hospital in Chennai, India
Notably, American medical tourists that travel to other destinations that are closer to home, such as Colombia, Costa Rica, or Mexico, will have to pay between $14,800-27,000 for the surgery, which makes India well worth considering as a medical tourism option for those that are not in critical situations and able to travel the additional distance.
Of all the procedures that we have researched, heart bypass surgery seems to be particularly attractive when done in India due to the massive 90% cost differential for this procedure versus a less dramatic 50-70% for other surgical procedures like hip replacement surgery. Moreover, India is well known globally for performing high quality heart bypass surgery with high success rates and low mortality and readmission rates at multiple heart surgery centers-of-excellence and JCI-accredited multispecialty hospitals.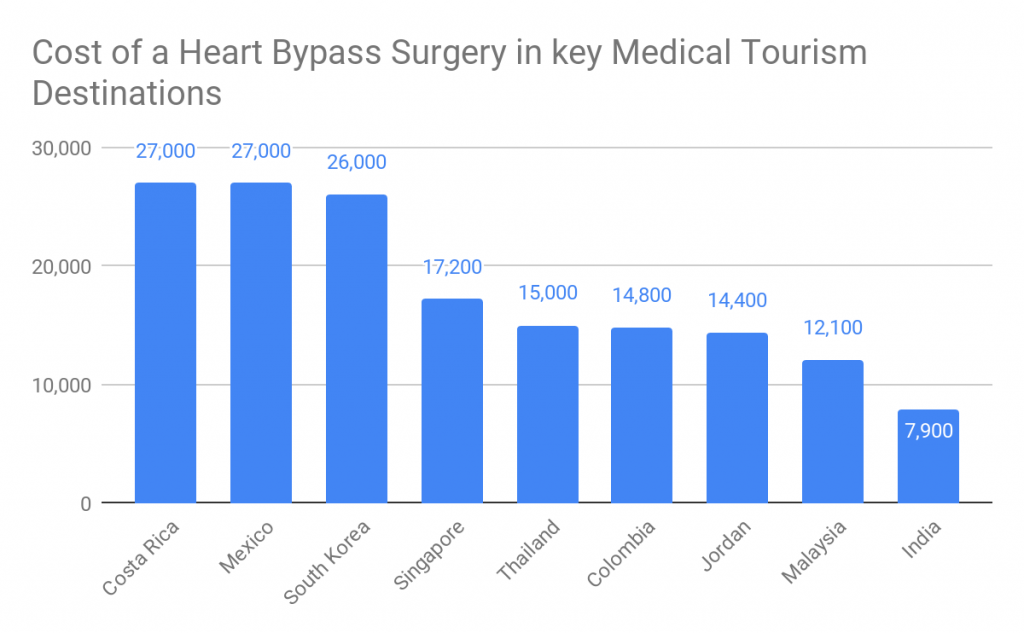 Source: Medicaltourism.com ( in US$)
For most Americans, the perceived risk of medical tourism is too high for a surgery that costs less than US$ 10,000 at home and on which they can save only around 50% by undergoing the procedure overseas. There are cheaper options within the United States as well, which has led to the rise of domestic medical tourism, as well as people choosing to use the Free Market Medical Association.
The cost of traveling to Asia must also be factored in, and patients may feel wary about staying in a foreign country after recovering from surgery. However, a handful of procedures are still too expensive regardless of which hospital in the United States performs them, which means that medical tourism may be the only cost effective solution, especially when the surgery is necessary rather than being purely elective in nature. Heart bypass surgery is a classic example of such a procedure given the huge cost of the surgery in the US, the scope for dramatic cost savings by getting the procedure done overseas and also the fact that the surgery is necessary rather than discretionary.
A heart bypass surgery in India can help uninsured Americans save as much as $85,000, even after factoring in the cost of travel
The cost discrepancy between heart bypass surgery in India and the United States is so massive that it is well worth a patient's time to consider options in JCI hospitals in India. Americans have to pay over $100,000 for a heart bypass surgery in the United States, while doctors can perform a heart bypass surgery in India for less than $10,000 at some of the top hospitals.
In fact, some hospitals in India are even able to perform this surgery for less than $2,000.
US Insurance companies can benefit from looking to India for healthcare options, as the heart bypass surgery is one of the most expensive surgeries in the country. As insurance premiums become more and more unviable for select portions of the population, there is growing scope for insurance products that incorporate medical tourism options to fill this gap.
A recent report completed by Marshall University notes how insurance companies in the United States could benefit from incorporating medical tourism options into insurance plans to cut costs. Some companies have expressed interest in medical tourism as a cost reduction measure. By including medical tourism as an option, specifically for heart bypass surgery in India, US insurance companies can reduce their premiums significantly and tap into a greater segment of the population that is currently unable to afford the prevailing premiums.
In fact, there are a large number of complex surgeries that many JCI hospitals in India are able to perform for less than $15,000 in almost all cases. If insurance companies caught on to this, they would be able to offer lower tier insurance products at a much more affordable premium levels. Moreover, there is significant room for differentiation between insurance products that specifically focus on catastrophic medical issues and critical conditions and for products that offer medical tourism options for procedures that are either discretionary in nature or mandated but non-critical in nature.
Select Indian hospitals deliver world-beating outcomes on heart bypass surgery
Patients can have a heart bypass surgery performed in India at an extremely low cost, without compromising on quality. A 2013 Harvard Business Review article noted some of the reasons for the low cost of a heart bypass surgery in India, which includes lower wages, lean processes and other operating efficiencies that have allowed hospitals to cut costs and improve surgical outcomes.
Heart surgeons in India have garnered massive amounts of experience due to the huge volume of surgeries they perform, versus their counterparts in the US and Europe and the high volume of surgeries also allows hospitals to utilize their equipment very efficiently. Mix this in with the country's substantially lower wages, and it is clear why even the top JCI hospitals in India are able to perform a heart bypass surgery for less than $10,000 without compromising on quality.
The success rate of heart bypass surgery in India has even been able to surpass that in the United States in some cases. For example, Indian hospital chain Narayana Health reported a 1.4% mortality rate for this surgery, compared to 1.9% in the United States. While the US healthcare system may be ahead in many ways such as technology and innovation in medicine, it is lagging behind in efficiency in many ways, which has resulted in costs being much higher than warranted.
If you do not have insurance or your insurance plan will not cover the entire cost of a heart bypass surgery, you should check to see if having a heart bypass surgery in India is the right solution for you. Most American patients can borrow $10,000 from friends and family, apply for a loan or use a credit card to fund this surgery. This breaks the deadlock between having to decide between risking a 6 figure medical bill or risking one's life by opting to delay or forgo the surgery, altogether. Check out our online medical booking portal to see the exact price for a heart bypass surgery, and we can put you in touch with doctors in India that will be able to assist you. If you would like to consider other countries as an option for a heart bypass surgery, our customer care managers can assist you with that too.